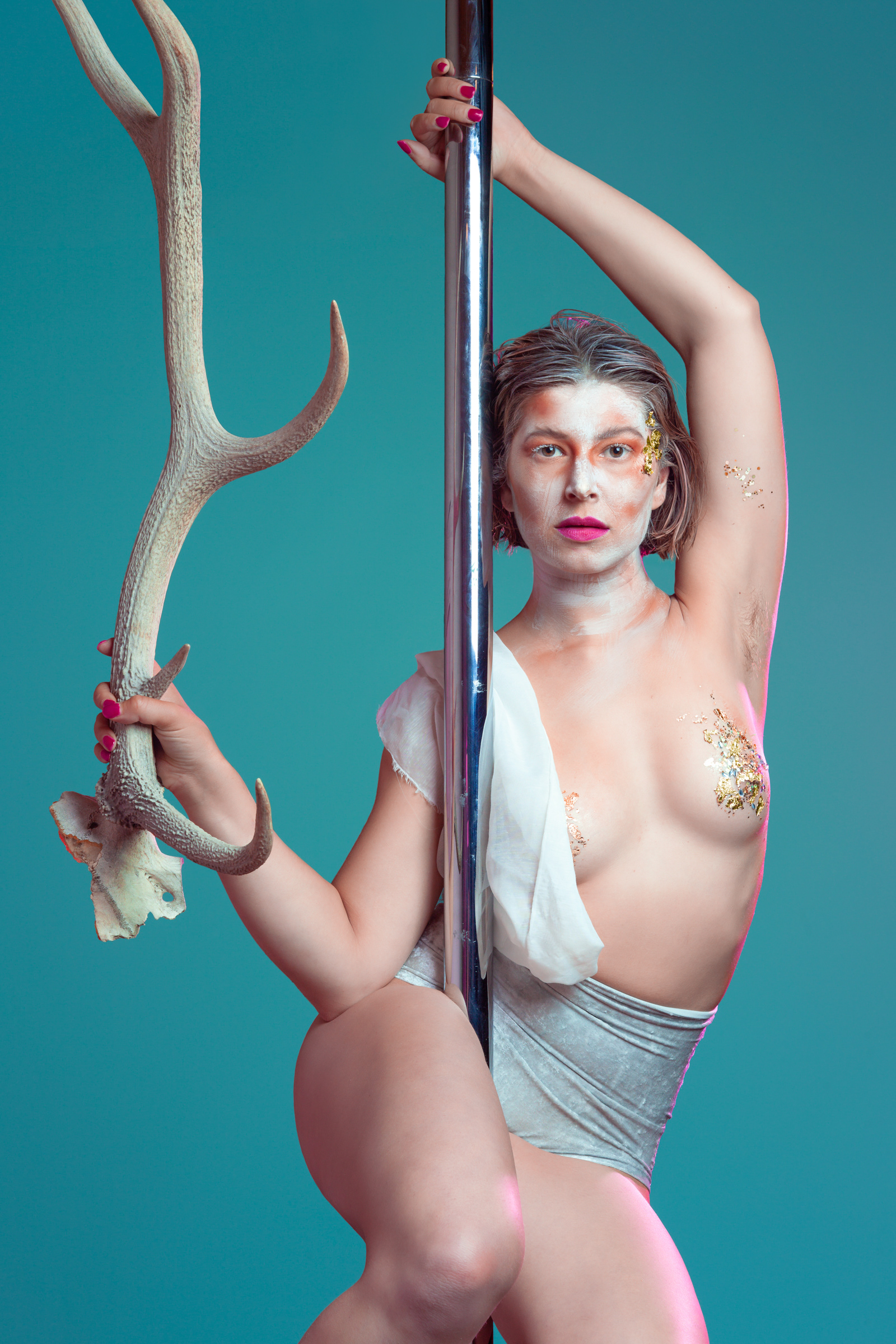 "The death of a beautiful woman is the most poetic topic in the world" – Edgar Allen Poe
In 
A Pole Tragedy I search for female autonomy and sexual self-determination in a male-dominated society. Fascinated by Euripides' famous tragedy
Iphigenia in Aulis, about the sacrifice of a young girl
'
s body in a men's war, I explore the thin line between violence and the erotic. In a sweaty duet between my body and a sky high pole I dive into my darkest desires, with Iphigenia as my heroic alter ego. Pushing the power dynamics between my body and the pole to extremes, together with composer/sound artist Mári Mákó I built my own interactive dancing pole, which I play with my body like a music instrument. The hard, immobile, shiny piece of steel gets its own voice and is no longer a passive object in a feminist female fantasy. 
Concept, text, performance: Sofie Kramer                                                                    Instrument development, sound design: Mári Mákó                                                       Technical consultancy: Michele Abolaffio
Costume design: Esther Sloots
Lichtdesign and video: Hendrik Walther
End direction: Floor Houwink ten Cate
Coaching: Carl Beukman
Technician: Brendan Breedijk
Campaign image: Casper Koster (photography) and Jesse Smits (poster design)
Teaser: Hessel Stuut
Made with support of Bureau Dégradé, GREENHOUSE/Veem House for Performance, Keren Levi, Performing Arts Fund and Amarte. 
About seven years ago, I was introduced into the fascinating world of pole dancing. The development of the pole dancing sports went hand in hand with female emancipation as it made its ways from stripclubs into regular gyms. Now women are using pole dancing as a way to train their abs and "re-claim" their sexuality. When learning it for the first time, pole dancing is very painful (and sometimes, when learning new moves, it still is…): bleeding wrists and feet, bruised shins, burning thighs. But it is also very fun, fierce and in a way liberating. I feel quite heroic sacrificing my skin, my wrists, my shins in order to master this phallic symbol. But after seven years of swirling around that pole I still wonder; is this self-expression or self-objectification?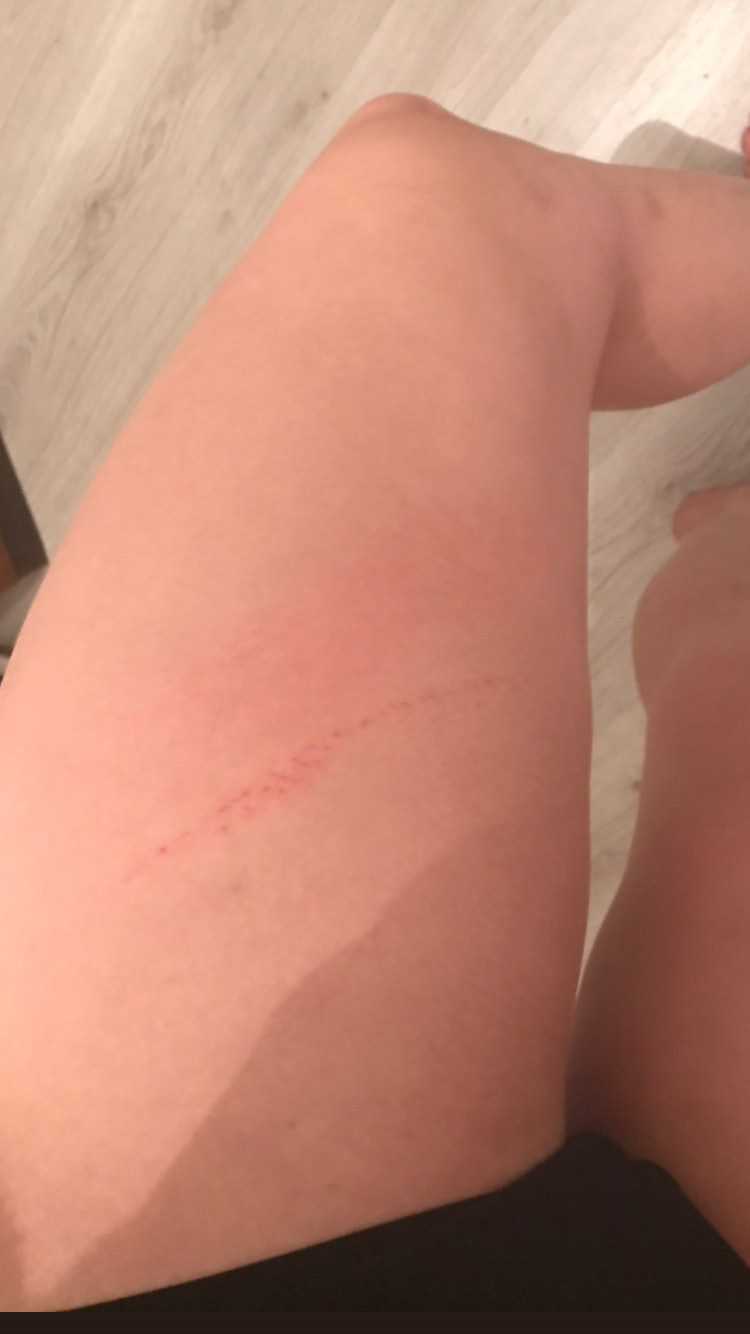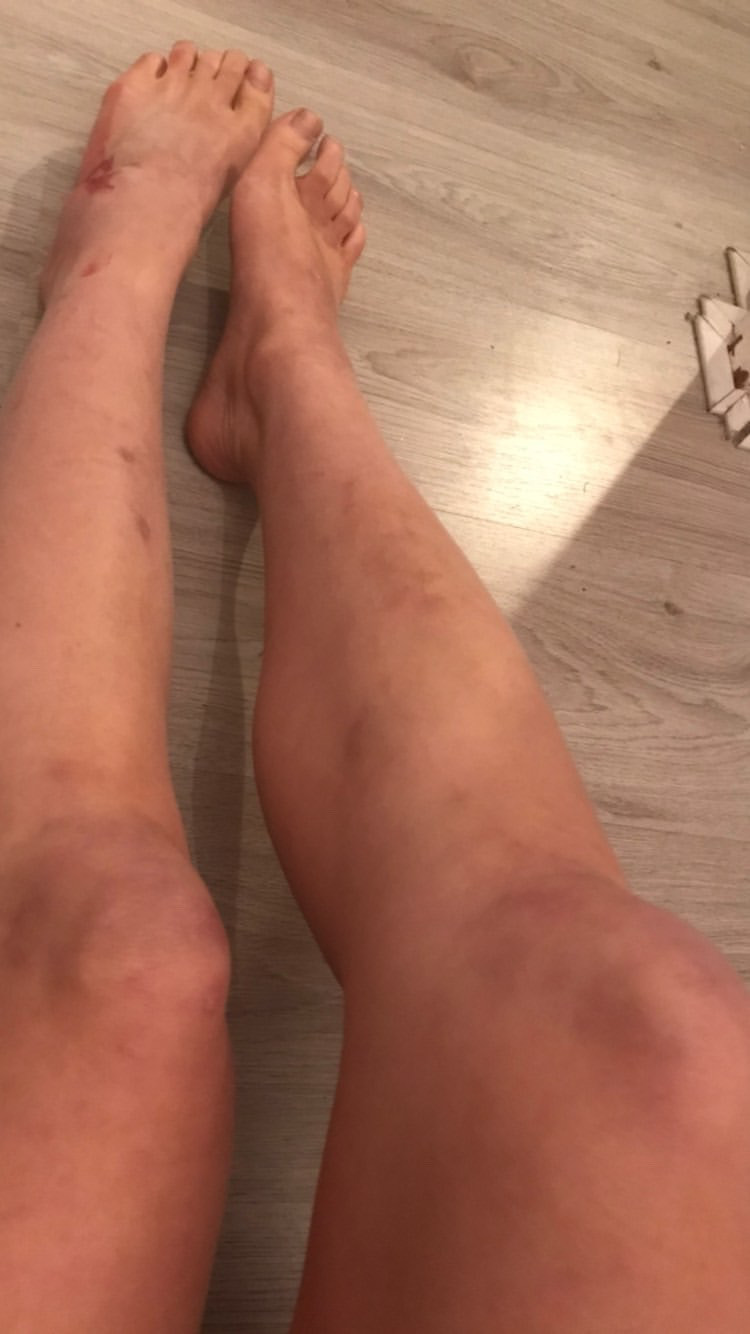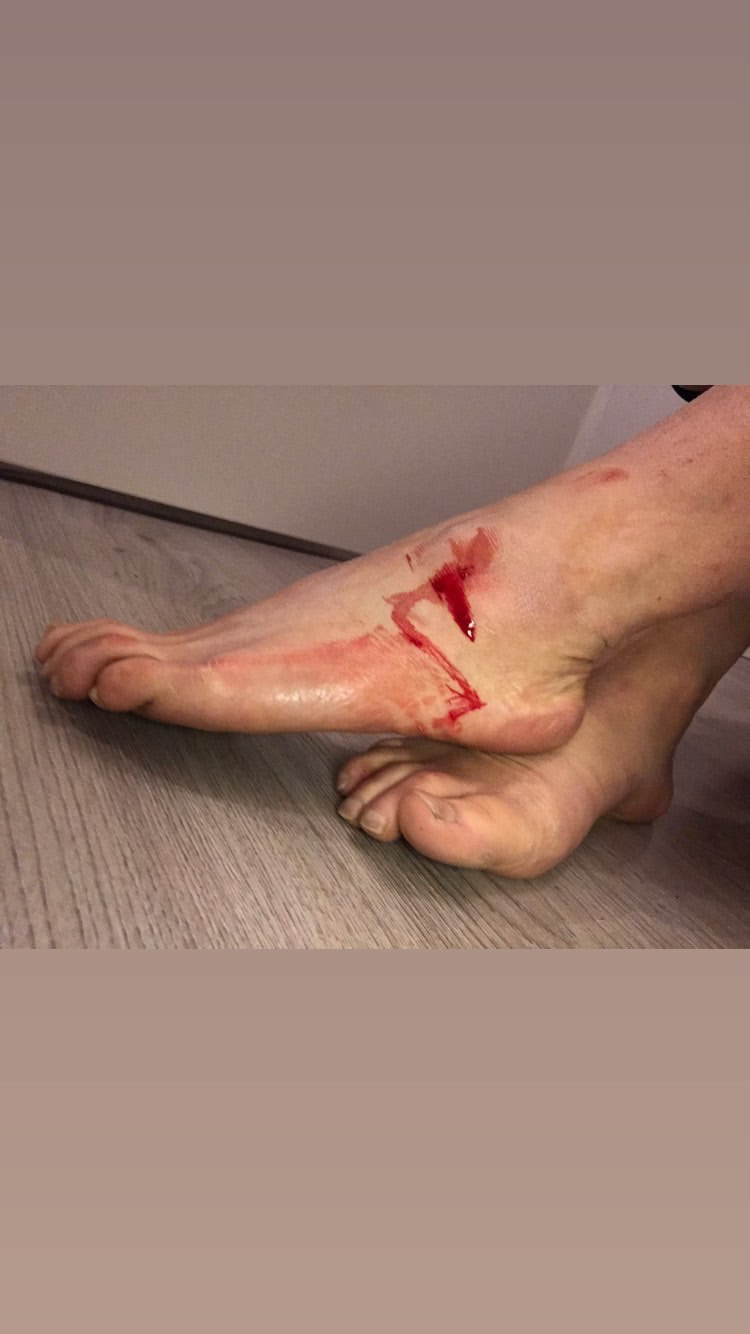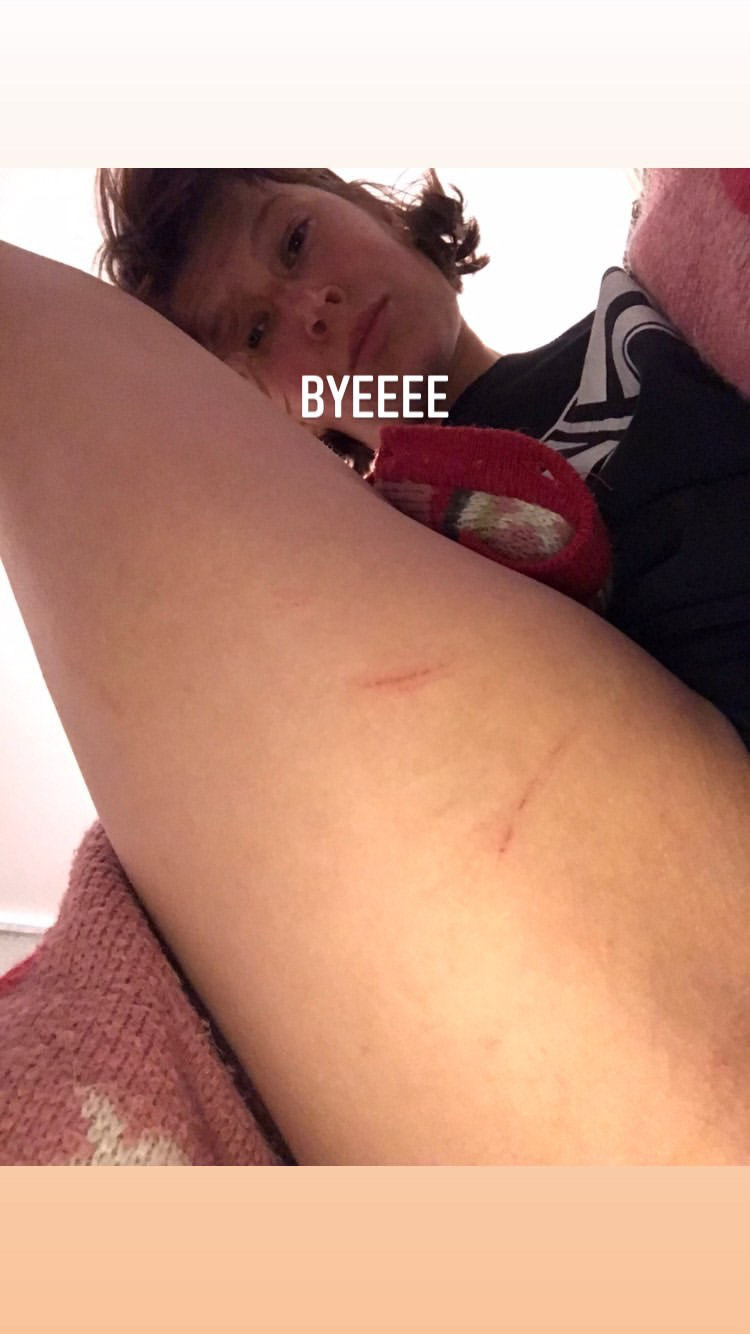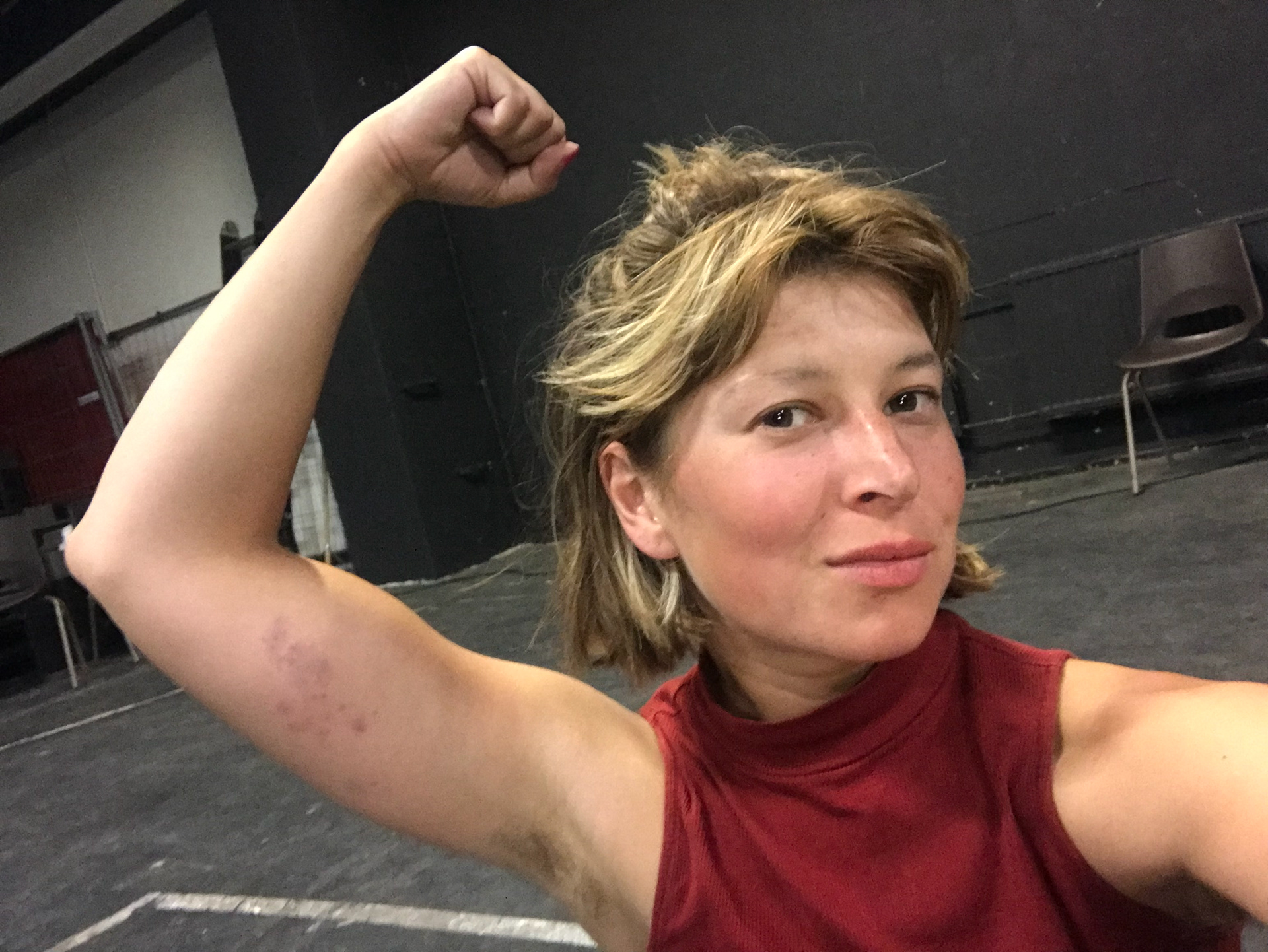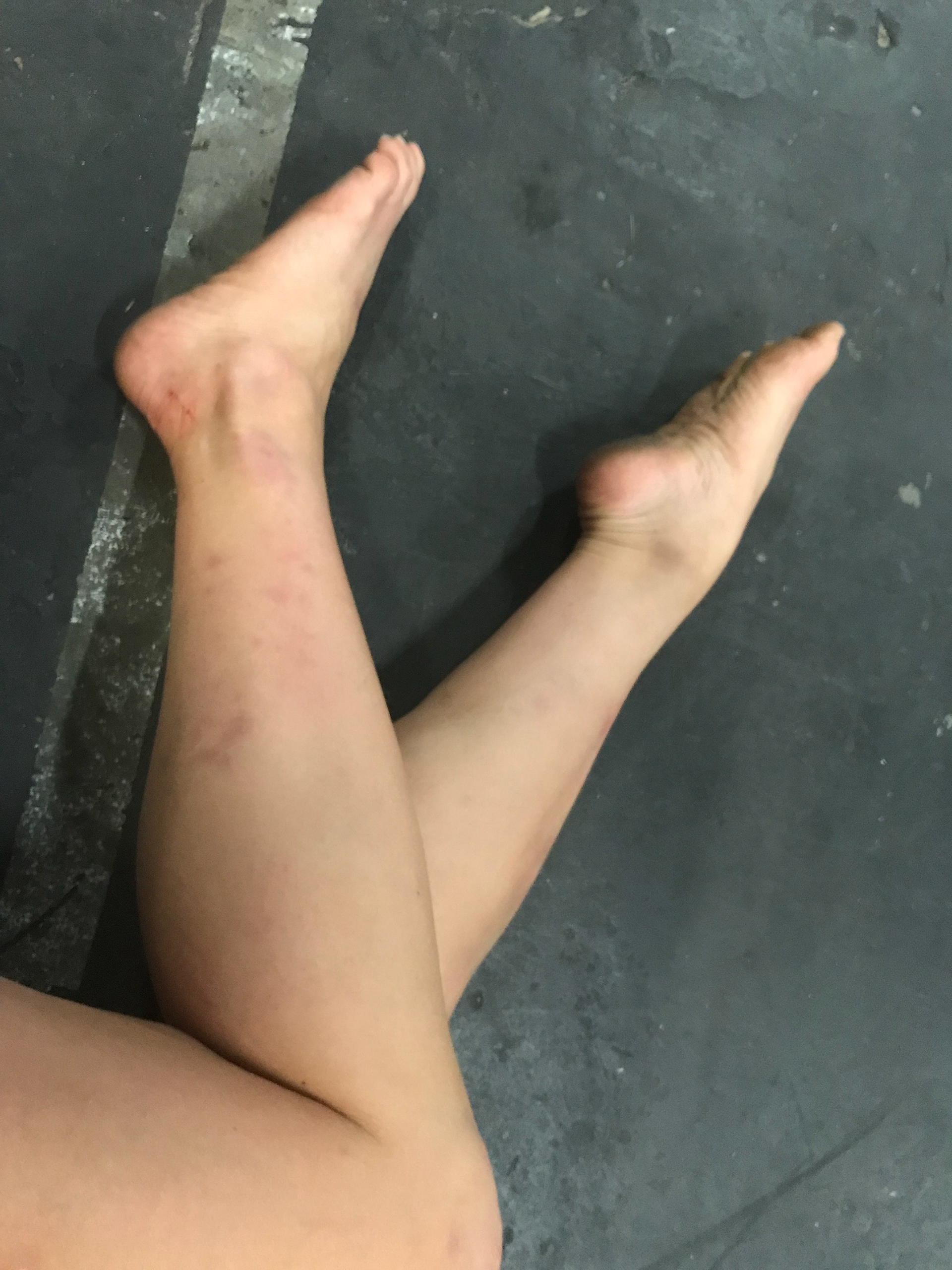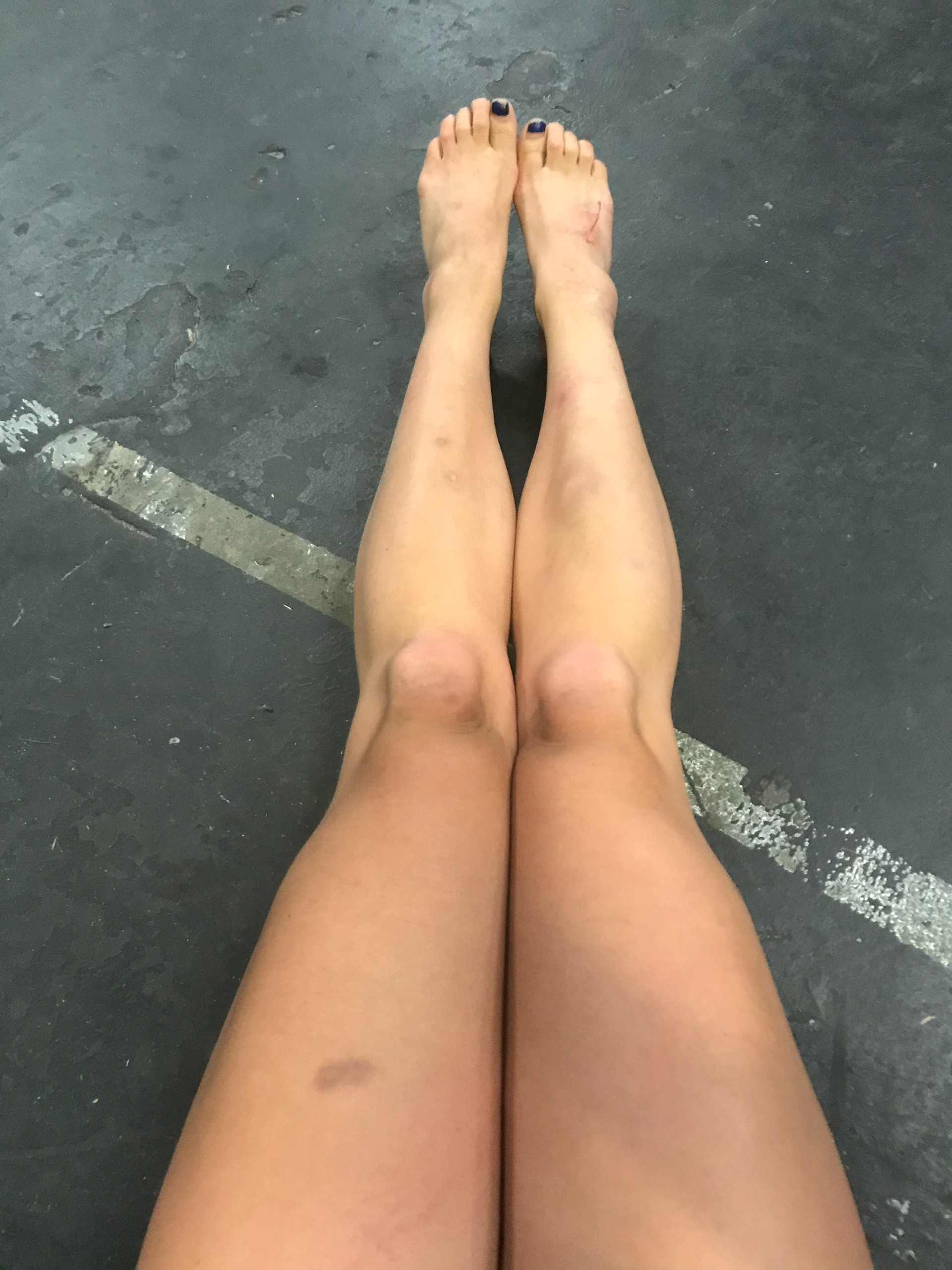 This process is therefore also a search for a new body language in relation to pole dancing and the experience of femininity. I want to use the pole as an instrument of liberation but at the same time I want to question this chosen instrument. In my physical vocabulary I want to break free from the male gaze (aaahhh), using the pole as a dance partner and boxing ball at the same time. In a one week residency at Veem House for Performance I dived into this physical research. As a starting point, I used essays from Elisabeth Bronfen's book Over her dead body, in which she examines how the conjunction of death, art and femininity forms a rich and disturbing strata of Western culture. I furthermore explored the relationship between text, body, pole, video projection and the audience working towards a multi-layered, interdisciplinary performance. 
This residency was coached by Keren Levi, Nicole Beutler and Marga Kroodsma. 
The search for complete autonomy was taken into extremes during a three week residency at Bureau Dégradé in The Hague. Out of my desire to be fully autonomous on stage I wanted my body and the pole to be the source of the myth, the struggle, the dance, but also the sound. I noticed that the sound of pole dancing is actually very interesting; the scratching of a hand, squeaking of the skin, bumping of the body against the pole. Together with Mári Máko we developed an interactive pole using multiple sensors, making an actual instrument out of the pole that I play with my body. Now I need to learn how to play this instrument, taming it with my body - a screaming pole with its own voice, a voice that I need to listen to. This phallic object and my female body suddenly ended up in a co-dependent relationship... 
In August we will get back into the studio for a final residency, to playfully combine the elements of sound, movement, text and video, searching for the boundaries of our taste while diving into Greek tragedy and the dirty stuff I write in my diary, to turn the piece into an apocalyptic orgasmic pole dancing opera about dark female fantasies and seductive sacrificial rituals. 
09/09/2021: Melkweg Amsterdam, Amsterdam Fringe Festival                  
10/11/2021: Melkweg Amsterdam, Amsterdam Fringe Festival                   
 11/11/2021: Melkweg Amsterdam, Amsterdam Fringe Festival                 
15/10/2021: Zaal 3, Het Nationale Theater, Den Haag 
Ticket sale starts on 2nd of August.